The U-Spin Spacesaver™ Candy Machines
Candies • Chocolates • Gumballs • Toys • Superballs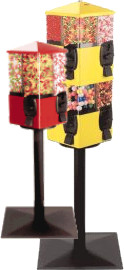 Easy To Find Location—Unique Design
Huge Selection—(8) Best in the industry
Large Capacity—Pick up $100-$200 per visit
Great Profits—500% Markup
Compact Design—Only 10 inches wide
No Heavy Lifting—Forget cases of soda
Efficient Service—Poor in 500 gumballs·Take off!
Dominates Competition—Eliminates need for other machines
There is no other bulk candy machine that offers the versatility that you get with the U-Spin Titanic 8-Selection candy machine. At only 10 inches wide, this machine fits in the smallest of locations while adding to the location's overall attractiveness.
This "MONEY MACHINE" offers more variety than 3 or 4 other machines combined in a location. Furthermore, why take up more than 10 square feet of floor space when you can take up just 1.5 and offer the same amount of selections.
Your customers will be excited about having this machine in their location. Best of all, their customers will leave with a "good taste in their mouth".
COMPARE

1

2

3

4

Machines

Description

*Avg.
Markup

**Avg.
Capacity

Comp-
etition

***Securing
Locations

8-Spin

Candy gumballs superballs toys

500%

1200

*****

****

4-Spin

Candy gumballs superballs toys

400%

750

***

***

Hot Shot

Gumballs (opt. products)

1250%

500

****

*****

Triple Head

Mostly bulk candy (gumballs)

400%

500

**

**

Classic Double

Mostly Gumballs (candy toys etc.)

1000%

1000

***

**

Classic Single

Mostly Gumballs (candy toys etc.)

1000%

500

***

***
*Very Poor - **Poor - ***Fair - **** Very Good - *****Excellent

Average markup depends on items vended, however, certain machines enable you to offer more variety and allow you to get into much better locations that often times vend cheaper items
Average # of servings before running out based on average dispensing settings
Competition-How the machine stacks up to the competition beside it
The ability to successfully secure good locations
ARTICLES
Vending Machine Consultation @ VENDING101.COM
Vending Location Procurement Success @ 101VENDING.COM
Vending Counsel @ 101VENDING.COM